I see that it's a year since I last wrote in this blog. It hasn't been a year of rest. You might call it a year of renewal. A year when I was able to put the Christchurch earthquakes behind me and look to the future and what's really important.
The atom model, tells us that "relationships are fundamental" a quote I picked up from Dr Jonas Salk (Polio Vaccine). There is an explanation of this thinking here.
This is obviously so when we examine any economy. An economy is like an ecosystem, it's enormously complex, and the things you can see, like like animals and plants, might be greatly affected by things that external to the local area, like climate change. Or by things that are very local like soil erosion. We would never think to measure the health of an ecology by measuring one single variable, like the movement of carbon, or the transfer of oxygen. Yet we try to do that with the economy, we assume that if we measure the flow of money we can control and grow the economy by good government and good business practices.
We're learning that this is all wrong. We don't understand the critical relationships in the economy because the excessive focus on money hides the reality of current events.
I'll be brief here: Economic growth is being undermined from two directions. First, the price of energy has increased. The margin between the energy cost and the selling price, that used to give us rising wages and profits, and make an interest rate of 6% "normal" has been cut. Real wages have been stable or falling in most of the developed world for close to 30 years. The chart below is for the USA. Remember of course that incomes in China have been rising. While in New Zealand, except at the executive level, real incomes have been very flat for many years.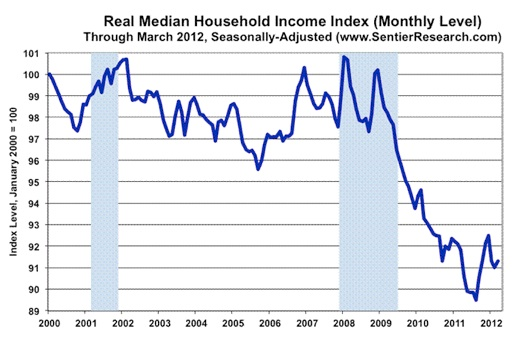 I heard Bill English, the Minister of Finance, in New Zealand, on the TV programme Q&A last Sunday, justifying current borrowing by saying that money was cheap and that in the next year or so that interest rates would return to their historic "normal" of about 6%. I think he's dreaming. A 6% interest rate would kill the US economy.
Like the USA, New Zealand is living in a finance bubble, created by continuing borrowing. I think we'll live to regret that. House prices are not under control. The cost of the earthquake repairs is blowing out. We are foolish if we think that soon the economy will get back to normal and then we'll be able to repay our debts. On a planet with limited resources, once those limits approach, the margins between costs and revenues are squeezed to zero, and growth vanishes.
The second killer of economic growth is environmental depletion and climate change. It costs more to get almost every commodity, partly because of increased energy costs but also because the easy to mine resources have already been used. In addition, across the world the insurance payouts, losses, because of storm damage have been steadily rising. Although, the insurance industry, or government assistance, might mitigate the cost in any community, the overall loss to the system is real. Our faulty way of measuring the economy, using GDP, counts the repair cost as an increase in value, but it's in fact a true loss.
We're caught between two opposing forces, and the economy is being throttled back, by non-monetary and non-government forces. Hoping for future growth, and seeking to stimulate the economy, many governments are printing money, but that doesn't solve the problem. In fact in the long run that makes it worse.
You can download a very important paper written by Asher Miller and Rob Hopkins, called "Climate After Growth". (33 pages)
Executive Summary
The nearly ubiquitous belief of our elected officials is that addressing the climate crisis must come second to ensuring economic growth. This is wrongheaded—both because it underestimates the severity of the climate crisis, and because it presupposes that the old economic "normal" of robust growth can be revived. It can't.
In fact, we have entered an era of "new normals"—not only in our economy, but in our energy and climate systems, as well. The implications are profound:
The Link: http://www.postcarbon.org/report/1882095-climate-after-growth
John Stephen Veitch The Network Ambassador Open Future Limited - You may comment privately to John S Veitch here: